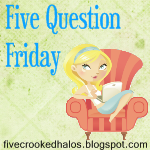 Well...in an effort to post more frequently I am participating in fun things like Five Question Friday. It's easy...just copy these five questions and answer them on your blog then grab the McLinky to share. Thank you Five Crooked Halos for setting this up. Looking forward to stalking all of you, I mean, visiting your blogs today!
1. Have you ever had a celeb sighting? I had a pretty cool one when I was vacationing in Hollywood. I was walking around scoping out the Chinese Theater, the famous footprints and the Walk of Fame and there is 80's teen heart throb Kirk Cameron with a camera guy. He was interviewing people on the street for that show he does on Christian TV. I would have jolly well gone up and gave my opinion to him but I had to catch my little tour bus to the Hollywood sign. Wish I had that picture...but it is lost somewhere on another computer! OH! I also got to go see a taping of Ellen on that same trip and she danced right by us!!

2. What temperature do you keep your house? I like it around 70 all the time, but here in Texas where we live you have the AC on one day and crank the heat the next!!

3. Do you notice dust at other peoples homes? No, because my house is so dusty I am totally immune to noticing it elsewhere. Unless it is like knee high or something... but it's not like I would judge or anything!

4. What's the worst job you ever had? When I lived in Alaska I worked in a fish cannery. It was THE worst! Cold, wet, boring and stinky!!

5. What is your most sentimental possession? My wedding ring and family photos.